Looking for an easy and inexpensive DIY Halloween wreath that's sure to add a spooky touch to your front door? I used 2 wire frames from the dollar store, a skein of black yarn, a skein of fuzzy black yarn, a package of googly eyes, 2 scary eyeball flowers and some orange ribbon to make these fun wreaths for $20.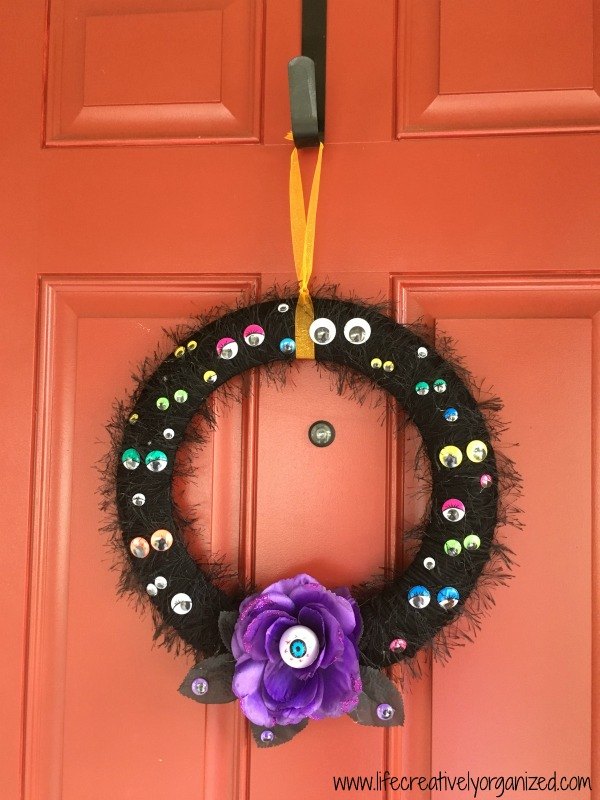 Finished spooky eyeball Halloween wreath!
I tied black yarn onto wire frame and wove the yarn snugly around the frame.
I kept pushing the yarn tight so it laid neatly and once completely covered, I tied the loose end to other yarn on the back side of the wreath so it wouldn't unravel.
First, I cut the leaves off of the main stem of the eyeball flowers. Then cut the main stem short enough to just poke through the frame. I used needle-nosed pliers to do all the cutting.
I hot glued the flower to the bottom of the wreath.
Then I hot glued the leaves to the underside of the flower.
All of the eyes glued on. (I even added some to the black leaves to make them stand out a little bit better!)
Finally to make the hangers, I cut 2 pieces of ribbon the same length and tied them onto each wreath.
Here is the finished orange one. This is just a quick synopsis of the steps I did. To see more details, photos and to better see the materials I used, please visit the post on my blog, Life, Creatvely Organized. This really was an easy project and I really like how they turned out – spooky, but not too spooky! 🙂
Materials I used for this project:
2 wire frames
Black wool yarn
Fun Fur black yarn
Glue-on googly eyes
Orange ribbon
2 eyeball flowers
To see more: https://www.lifecreativelyorganized.com/spooky-eyeball-halloween-wreath/