I found the perfect pink buffalo check wallpaper for our mudroom- but it was more than I wanted to spend. Luckily, I found the identical pattern in fabric a lot cheaper. I'm kinda intimidated by hanging wallpaper anyway, so I thought I would try the old "starch the fabric to the wall" trick. It ended up being the perfect solution- check it out!
So for supplies, you'll need a roller and paint tray, some liquid starch (I used two 64 oz bottles), a sharp utility knife, some thumb tacks, and something with a good smooth edge to work the fabric into the corners (I used a drywall smoothing blade).
Time: 4 Hours Cost: $120 Difficulty: Medium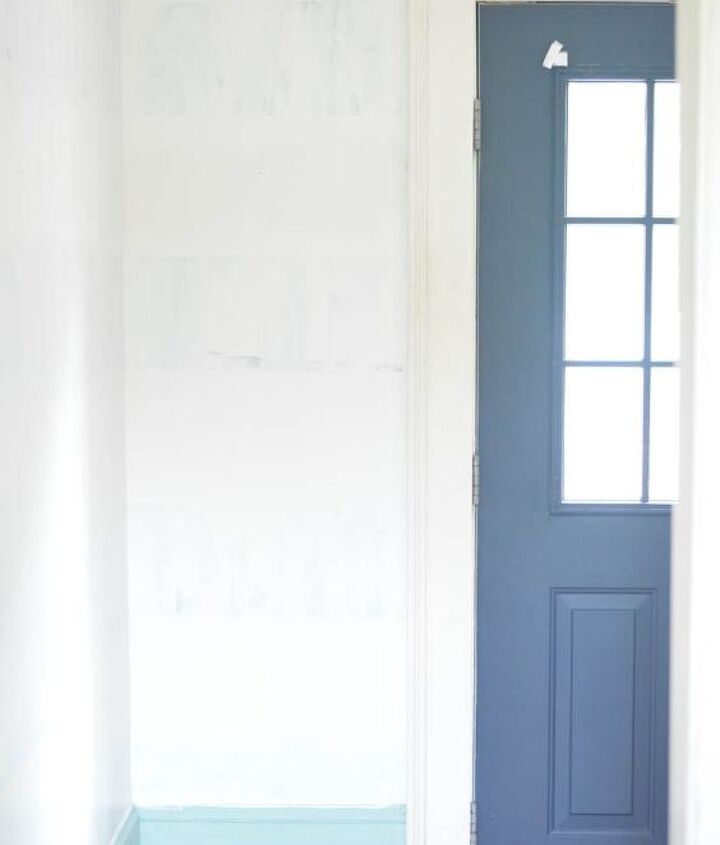 The first thing I had to do was paint the room. This space had blue and white stripes, which would have definitely shown through the fabric.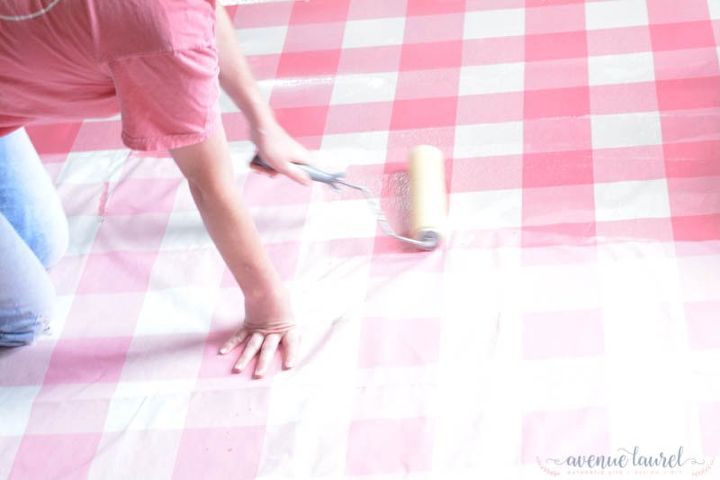 Find a good clean flat spot to work and lay your fabric down on it. Pour your liquid starch in the paint tray, load your roller with the liquid starch and then roll your starch on the fabric. The fabric will darken with the starch, but don't worry, the fabric dries back to its regular color.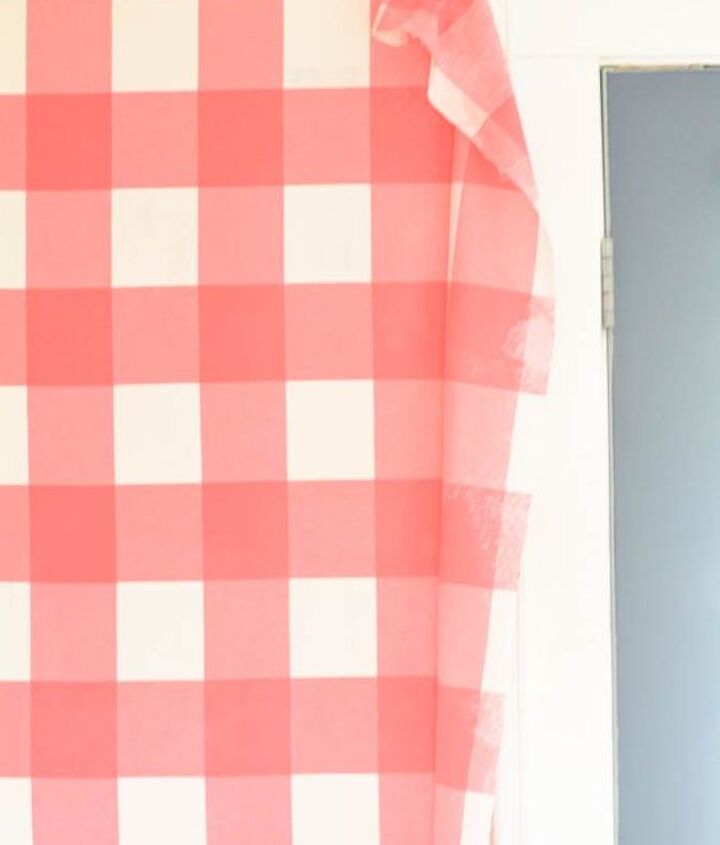 Next, load your roller up with the liquid starch again, and roll it on the wall. Grab a friend, if you can (it can get heavy by yourself), and have them help you position the fabric on the wall. Use the push pins to secure the fabric in place on top while you make adjustments to the placement of the fabric. Use your hands to smooth the fabric into place on the wall, and once your have the fabric where you want it, use the drywall smoother to really work out any bubbles or wrinkles. Don't worry though- this part is easy! The fabric is really easy to work with and move around. Reposition the push pins as needed.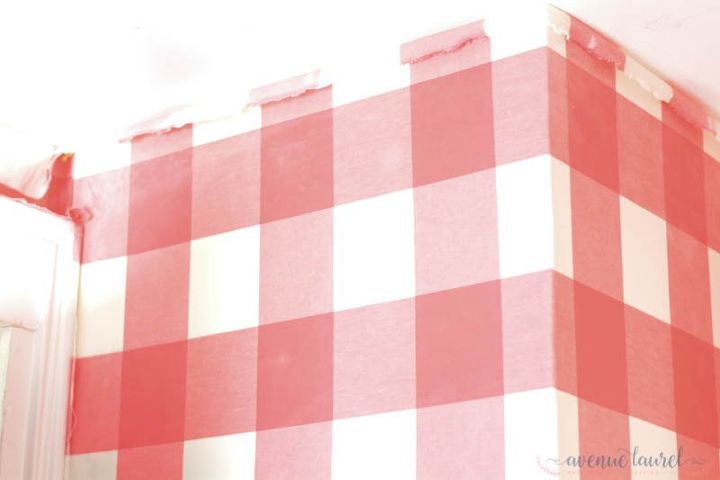 Work your way around the room, using the drywall smoother to push the fabric into the corners and edges. My room had both inside corners (duh) and outside corners, as well as lots of door casing and trim to work around. My blog post has lots of detail about how to address these issues, as well as how I dealt with fabric overlap and seams. Fair warning: I'm not a perfectionist 🙂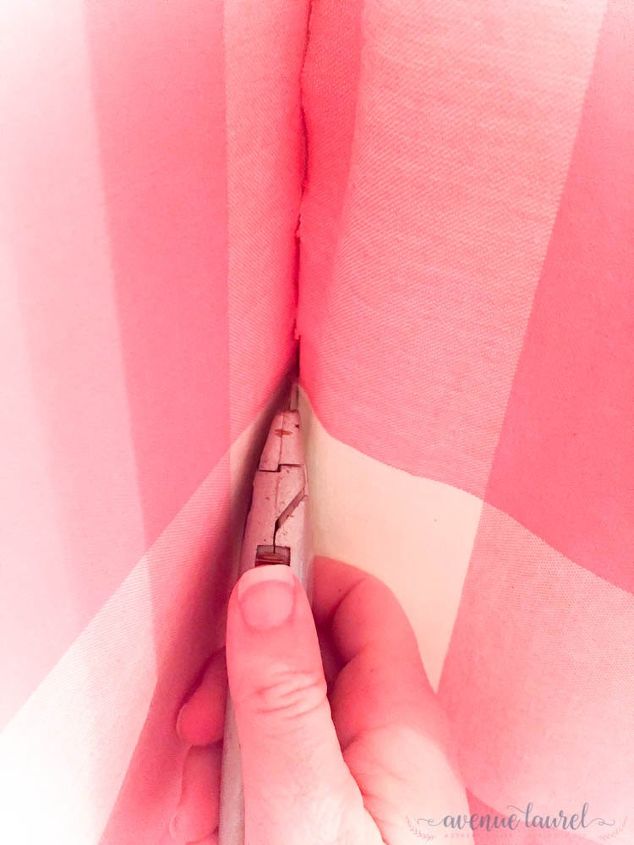 Once you've worked your way around the room, let it dry- it took my room a few hours. Then, use a new blade on your utility knife to cut the excess fabric from around the ceiling and trim. As long as your blade is sharp, this part is easy.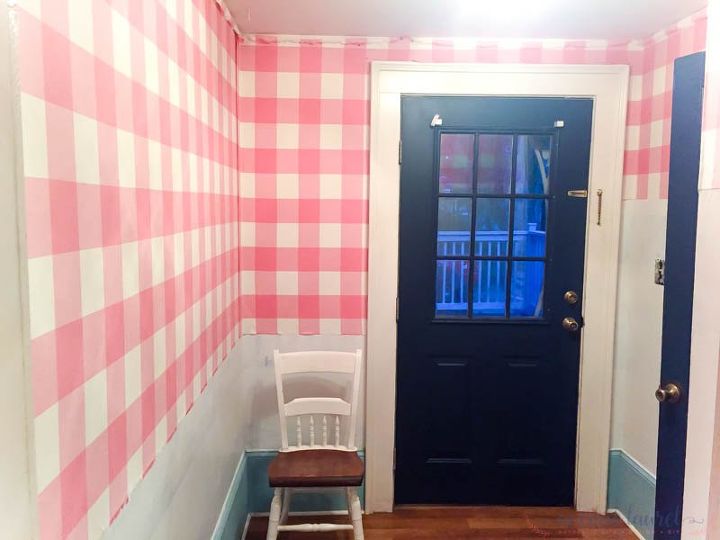 You can see that I put too much fabric on the walls on the left side. It was super easy to remove- although it would not come off until I physically pulled it off!
Materials I used for this project:
P. Kauffman buffalo check fabric   (eBay)
Utility knife
Liquid starch   (Dollar General)
Paint Tray and Roller   (Lowes)
To see more: https://www.avenuelaurel.com/2017/08/17/how-to-cover-walls-with-fabric/