I have been wanting a place where I can have my morning coffee without being among my husbands tools and bicycle stuff. I made claim to the little piece of patio outside the Arizona Room. The patio is covered and is just about 6 feet of pavers. I really had a blank slate to start with.
Time: 2 Days Cost: $50 Difficulty: Easy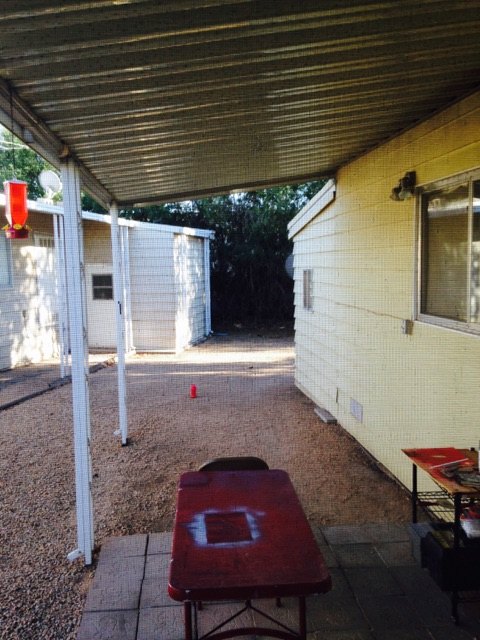 I knew I needed something to cover the pavers and make it more comfy, I also needed to block out the morning sun and have a little privacy. I decided on a camping mat comfort and curtains to take care of the sun and add some privacy. While mulling the curtains around in my head I ordered the mat from Amazon.
I decided on using painters cloth for the curtains. They are heavy enough to block some of the sun out. I learned how to install grommets. It's not to hard. Since the material is so thick I used an Exacto knife to cut out the hole. Make sure if you decide to install grommets that when you bang the sides together you really find a hard surface to hammer on otherwise the grommets will pop off.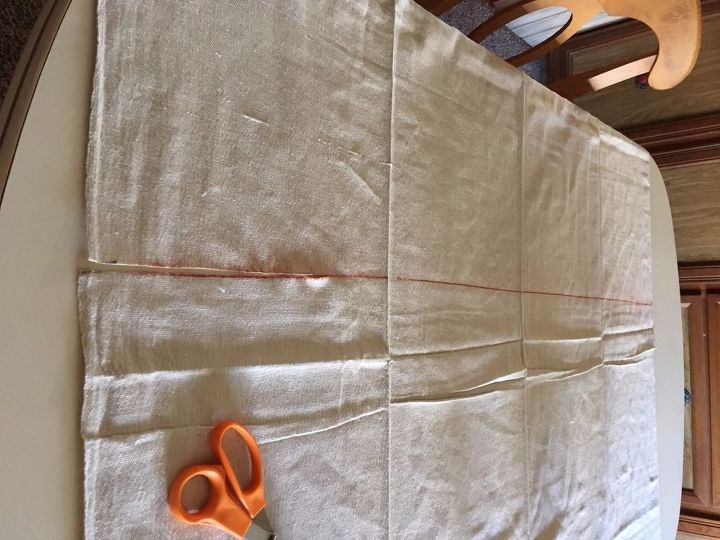 After I cut off about 4 feet from each curtain I opted to hem the bottom since I have a sewing machine.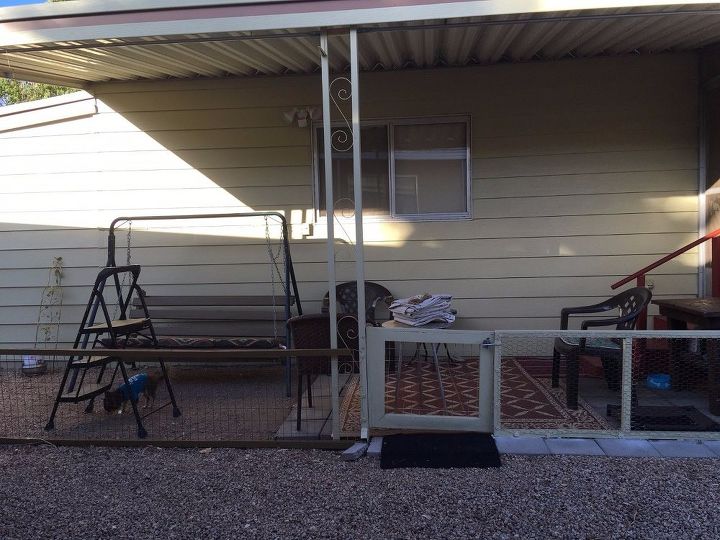 The camping mat came and I brought some furniture in from the back yard. Getting ready to put up the curtains. I'm excited to see how they will fit.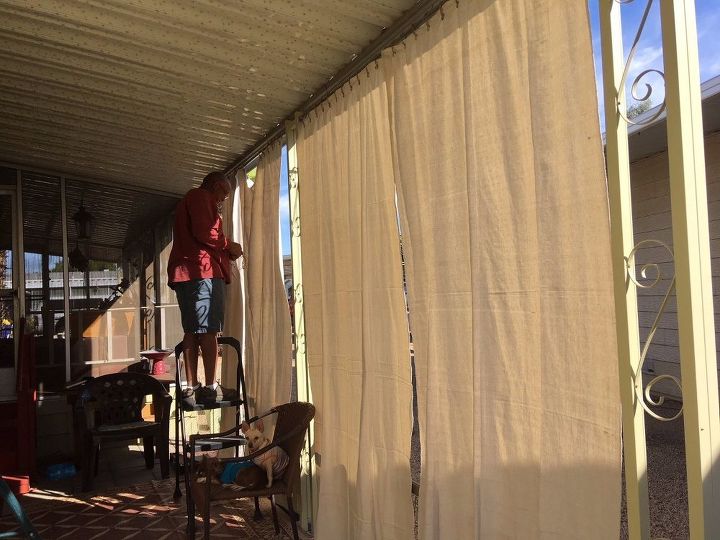 I don't climb ladders so my hubby lent a hand. He thought using twine to hang the curtains might be a good idea. They looked really nice and rustic but they didn't slide along the bar very easily.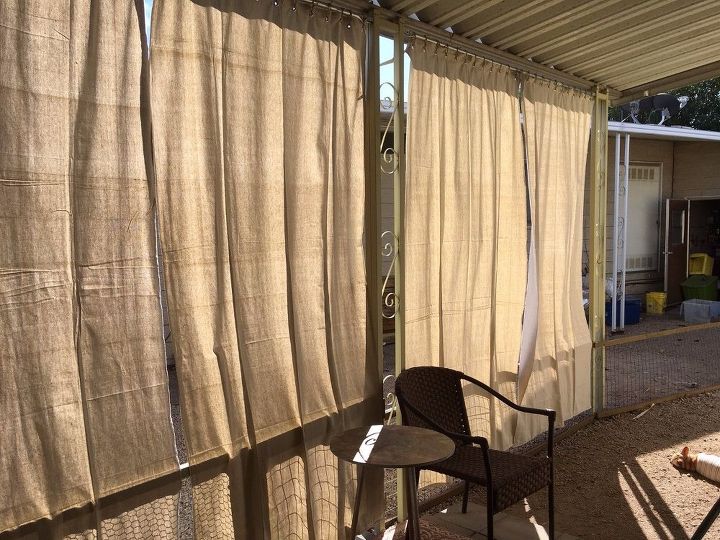 I like watching them blow in the breeze. We went to Goodwill to see what else we could find to hang them with. We found packages of odd numbered curtain hooks and just mixed together. They looked better than I thought it might.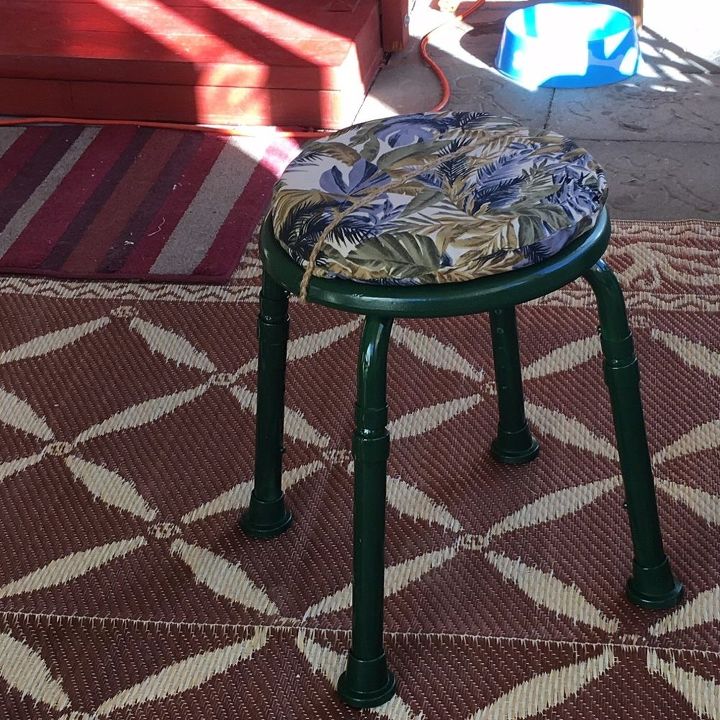 A while ago I asked Home Talkers what I could do with this shower stool I didn't need anymore. With their help it went from shower stool to foot stool. I didn't have any outdoor material so I didn't glue the cushion onto the seat. I just tied it on for now. The cushion cover will only last a season in the heat.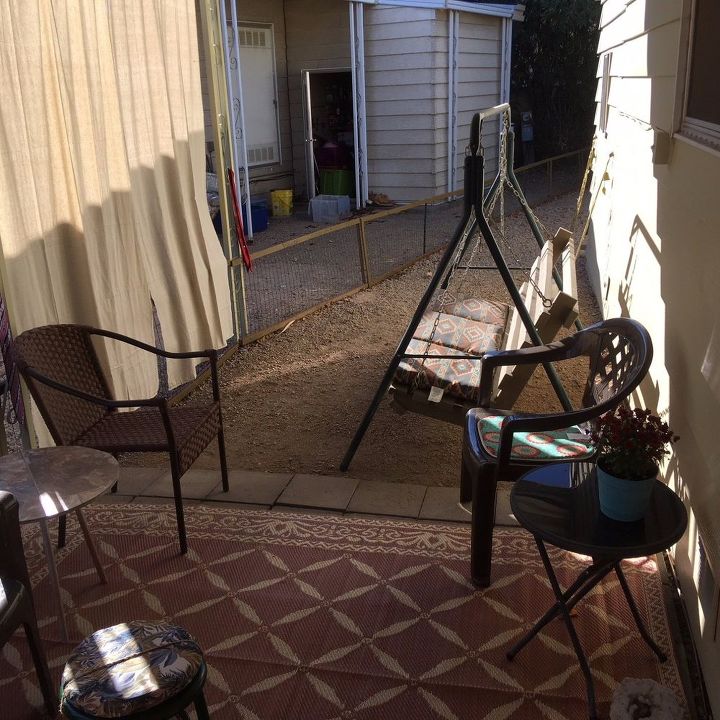 I want to get some big pillows for the back of the swing. But other than that I am done. I have my sanctuary to enjoy my morning coffee. Thanks Home Talk for all the inspiration!
Materials I used for this project: