Hi all! I've been so excited to share with you my latest art piece!! There are many highs and lows in the life of an artist! You start out with the highest of anticipation to put what is in your head onto the "canvas" (or furniture, as furniture IS my canvas typically). The little devil pops into your head and makes you start second guessing…. Each piece comes with its never ending roller coaster ride!
Time: 2 Weeks Cost: $90 Difficulty: Advanced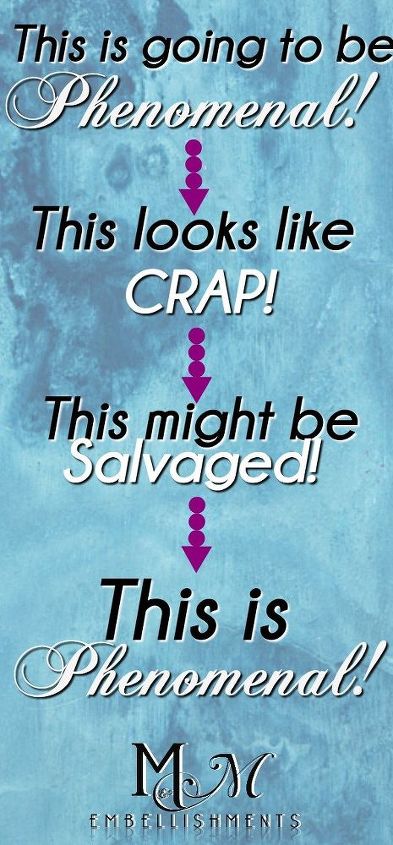 Such was the circle of life for this piece!
I started with this nice end table that had some good potential.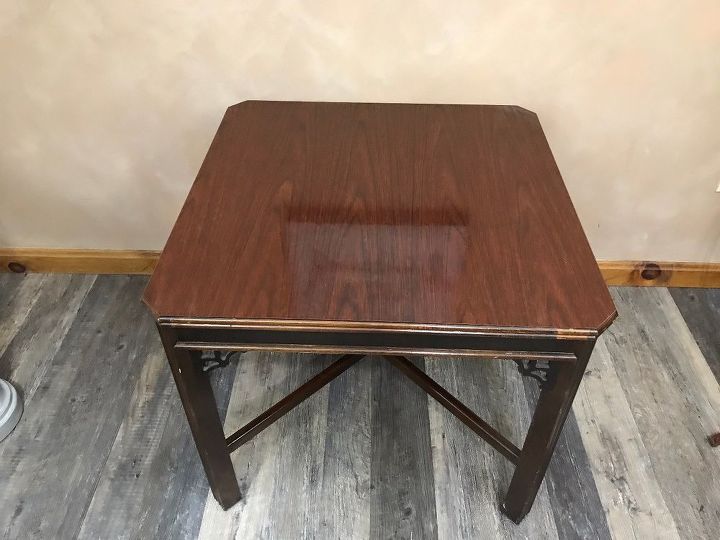 From the day I bought it, my vision was a red base with some dark glazing.  For the top, my hope was to have a red poppy!  I searched for months for the perfect poppy and finally decided on this as my inspiration.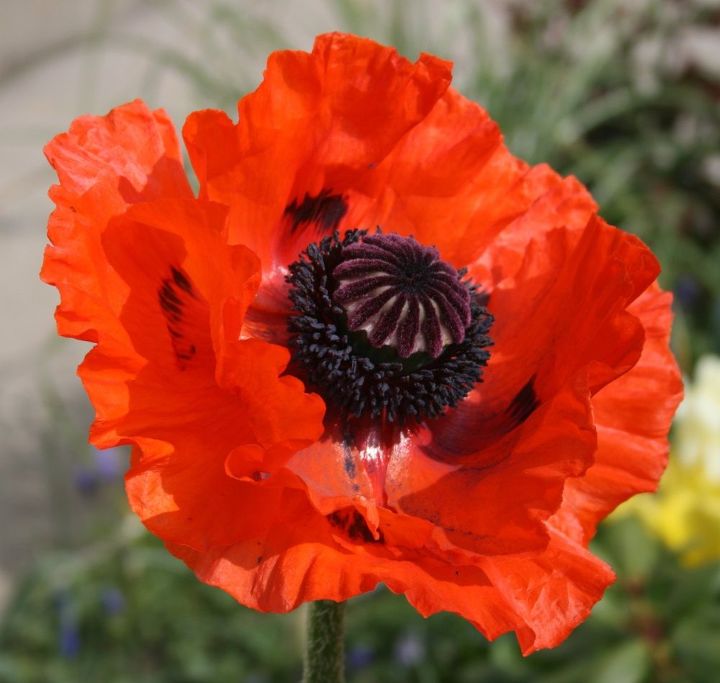 I started with the easiest part while I tried to figure out how I was going to do the background of the poppy. I painted the base with Wise Owl Antiqu e Red. 
Once the Antique Red was dry, I sealed the paint with our Wise Owl Varnish in Satin, and then used Min Wax Oil-based Stain to create the aged effect.
 The oil-based stain needs to cure for at least three days before applying a water-based topcoat.  I then sealed with our Wise Owl Varnish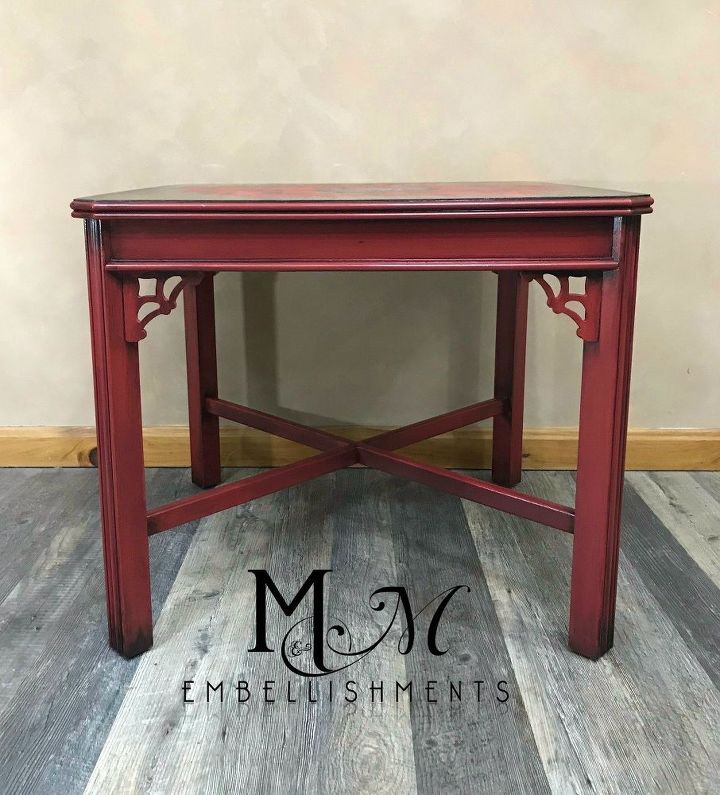 Now, on to the fun part!  I was a little nervous on this one.  I couldn't figure out how to do the background and get the red done with success. I had some hiccups along the way and actually had to start the top all over again.
(This is where the "This looks like CRAP!" mentality came in to the picture!)
I got back on track…
I ended up painting the background with Wise Owl Black, and the part where the poppy would be was painted with a mix of Wise Owl Radish and Antique Red (Radish has now been discontinued, sadly).
Here is what the top looked like before I started the staining technique.
I've been asked about the process of the staining and how I do it. It's difficult for me to explain with out a video (which I haven't yet done), but it's a matter of building up the stain to create the shading. I use various artist brushes and I look back and forth to the inspiration photo to make sure I'm getting the shading correct, but there is a LOT of free hand in this technique. I transfer the basic outline using transfer paper and I put in a few registration lines to keep me in check – for example around the pod, so I know where the pod is in relation to the bigger picture.
Here is a bigger picture of where I was at this point.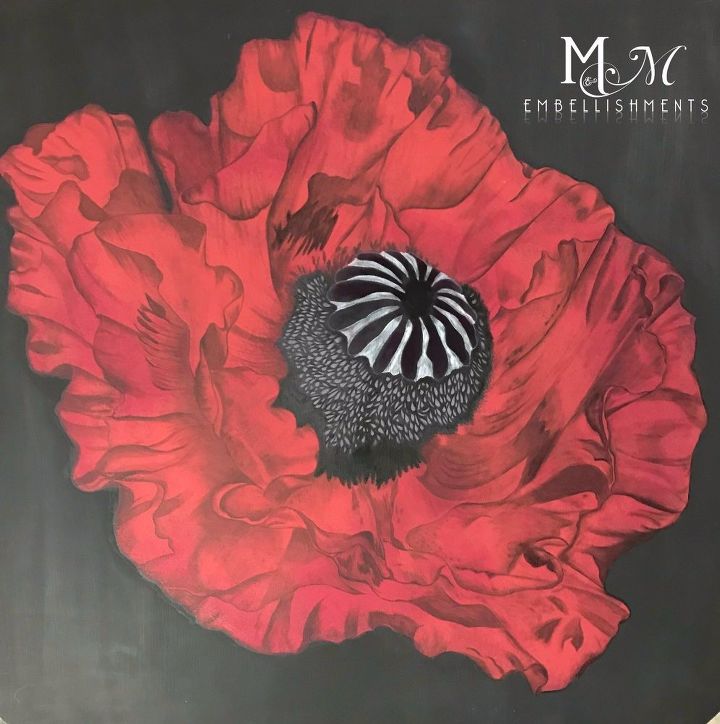 I was very happy with the staining at this point, however, I wanted the background to be darker. So, i went back in with my oil-based Ebony and put a coat of the stain over the black paint.  This was a painstaking endeavor.   I allowed the stain to cure for nearly a week before I coated it with the sealer.  I used General Finishes High Performance Topcoat.
And HERE she is!!  I don't like to play favorites , but I have to say that this is my favorite piece to date!!  The color is so vibrant and really pops off the dark black background!  I think I made it to the "This is PHENOMENAL" stage!! (at least in my eyes).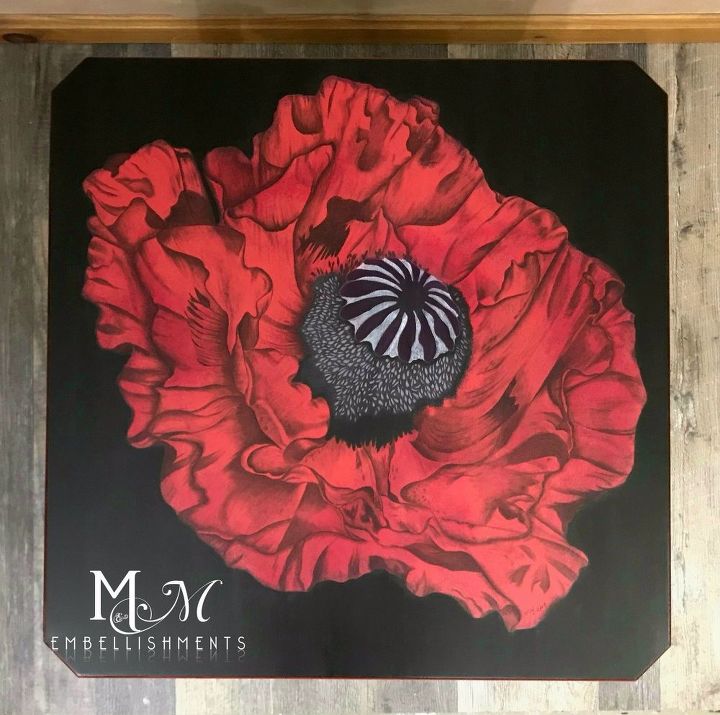 bMore detailed pictures can be found on my website. You can find it under my blog post "Dancing Poppy"
When I was halfway through this piece, one of my Facebook followers said she wanted to purchase it.  It turns out she is from FL, and I will be making a trip to FL to visit family at the end of the month!  She lives near where I am going so this worked out perfectly. 
If you haven't visited my  page, you should stop by.  I post progress pictures as I'm working on pieces.  I also post other important dates, events, specials, giveaways, sales, etc!  I hope to see you there!!
 I would also like you to visit my other social networks if you have a moment! 
Facebook: https://www.facebook.com/mmembellishments
Pinterest: https://www.pinterest.com/mmembellishment
Instagram: https://www.instagram.com/mmembellishments
Materials I used for this project:
Wise Owl Paints   (https://www.etsy.com/listing/493806810/wise-owl-chalk-synthesis-paint-pint-size?ref=shop_home_active_10)
MinWax Stain   (http://amzn.to/2i4TQyA)
Wise Owl Varnish   (https://www.etsy.com/listing/528557119/new-wise-owl-top-coat-matte-or-satin?ref=shop_home_active_77)
General Finishes High Performance Top Coat   (http://amzn.to/2AAWnYK)
To see more: https://www.mmembellishments.com