To view this tutorial and my other projects on my website, check out:
For years, I struggled with spice organization. I hated keeping them in a cabinet or pantry because they seemed to take up so much space. I struggled finding what I needed at the right time. Mismatched jars and bottles would frequently fall over like bowling pins during every search. Lazy susans and spice shelves added little improvement. I wanted something cheap, functional, attractive, and attractive. Preferably I wanted all the spice jars to match and be made from glass.
About ten years ago, I found some amazing magnetic spice jars at a Cost Plus World Market. They were 3 inch circles, made of tin with clear plastic windows on the front. I loved them and bought 3 at $7 each. I used them for a few years but I had more than three spices, so they did little to improve my situation. I could not afford to buy dozens more.
Five years ago, I was receiving massive amounts of free baby food from WIC. I had infant twins, so they gave me 128 free baby food jars a month. Does anyone ever go through that much baby food? Honestly, I never cashed in most of my vouchers. I had so many full jars piled up after just the first two months. My girls rarely ate it anyway, preferring to nurse or share whatever we were eating in a mushier format. Waste not, want not. I donated many of the jars to local charities and the ones I saved until they expired, I washed out to re use. I have created many fun things from these baby food jars, but one of my favorites is my magnetic spice jar collection. Let me show you how to make your own.
Time: 10 Minutes Cost: $4 Difficulty: Easy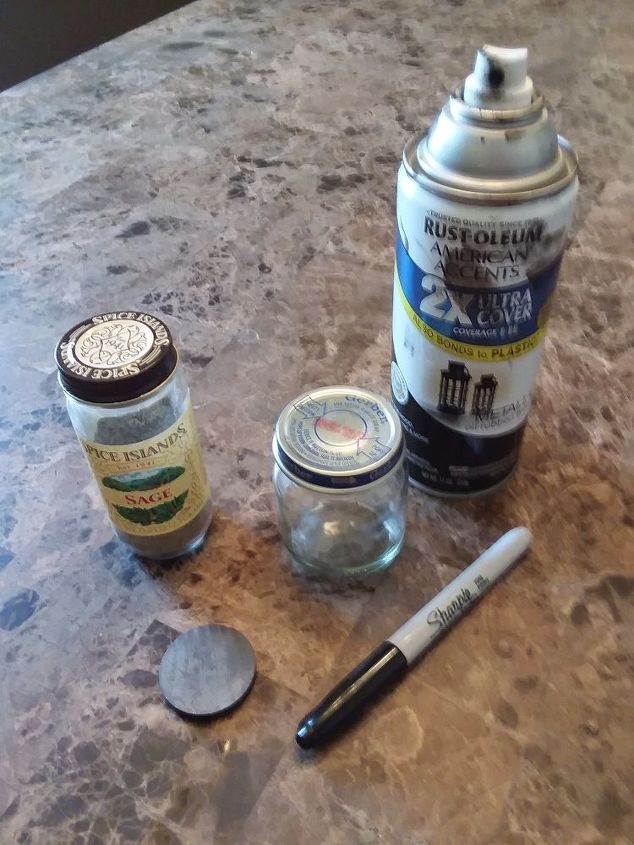 Step One: Grab your supplies.
For this project, you will need clean empty baby food jars. Make sure you have enough for each of your spices. The problem with this is usually removing the labels. I have discovered that women tend to use a labor intensive combination of boiling and scrubbing to remove the labels. Men tend to be a bit more logical and use WD40. I used hot water from the tap and steel wool to scrub it off. It was quite labor intensive and not enjoyable. I blame it on my X chromosomes.
You will also need spray paint in a shade that makes you smile and compliments your kitchen colors (I chose metallic bronze). Next, grab a Sharpie marker, some Gorilla super glue, and some extra strength super strong magnets (small regular strength will not work).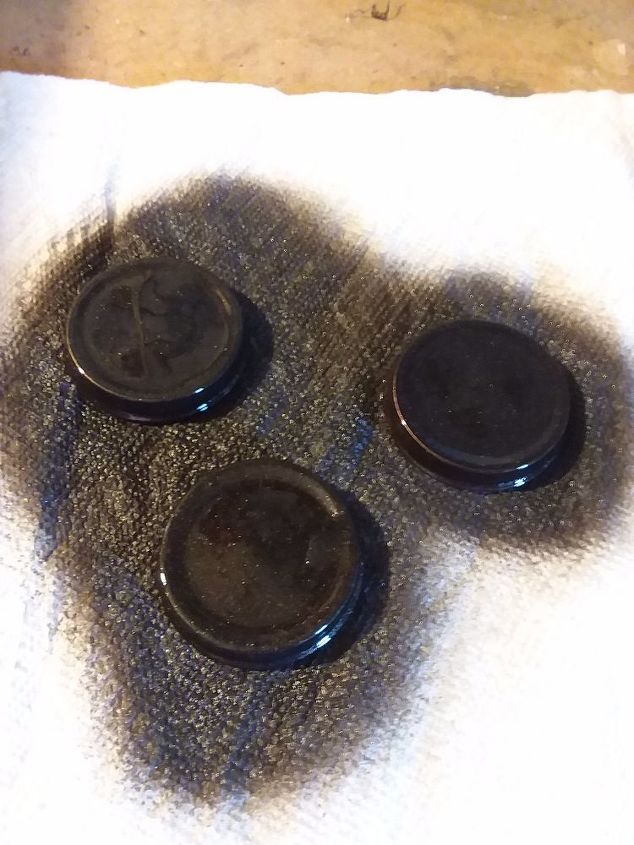 Step Two: Paint the lids.
Remove the lids from all the jars. Place them on newspaper or paper towels outside or in a ventilated garage. Spray paint them thoroughly, making sure you get every part of the rim. Leave them to dry. Find something to amuse yourself while you wait.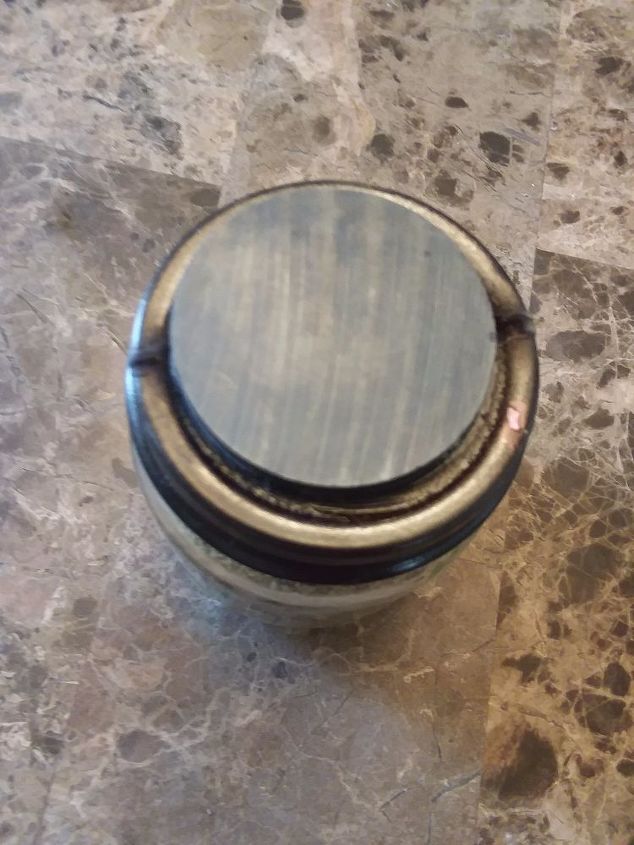 Step Three: Glue the magnets on.
When the lids are dry, please carefully glue one magnet in the center of the top of each painted lid. Allow the glue to dry.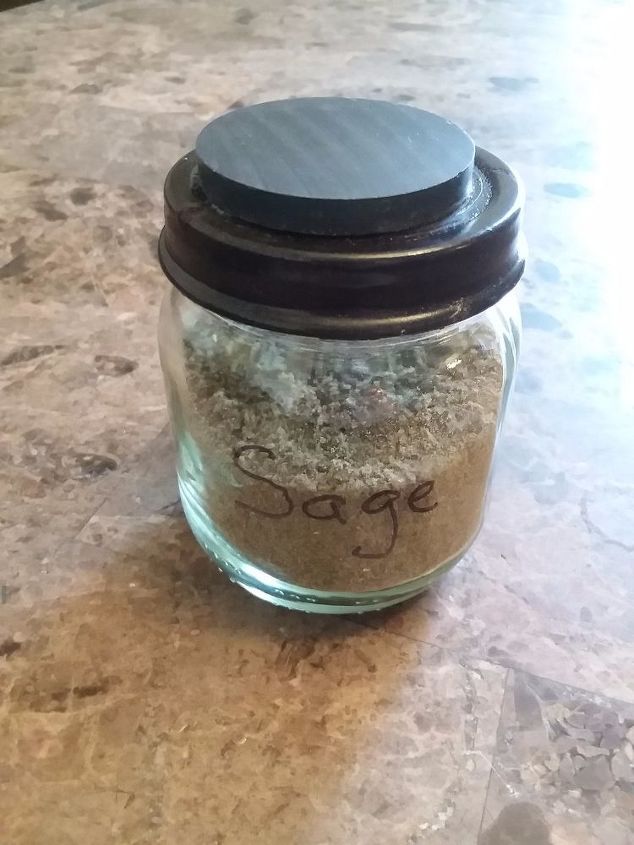 Step Five: Label your jars.
Use your sharpie to write the name of each spice on the jar. You can also use acrylic paint or you can use chalkboard paint/chalkboard labels on the front of each one. I found that the chalk wears off after one use, so it didn't work well for me. The sharpie holds better than the chalk but can wash off easily in the sink. Acrylic paint looks nice, but it is harder to deal with, so I use it on other things throughout my home that need labels.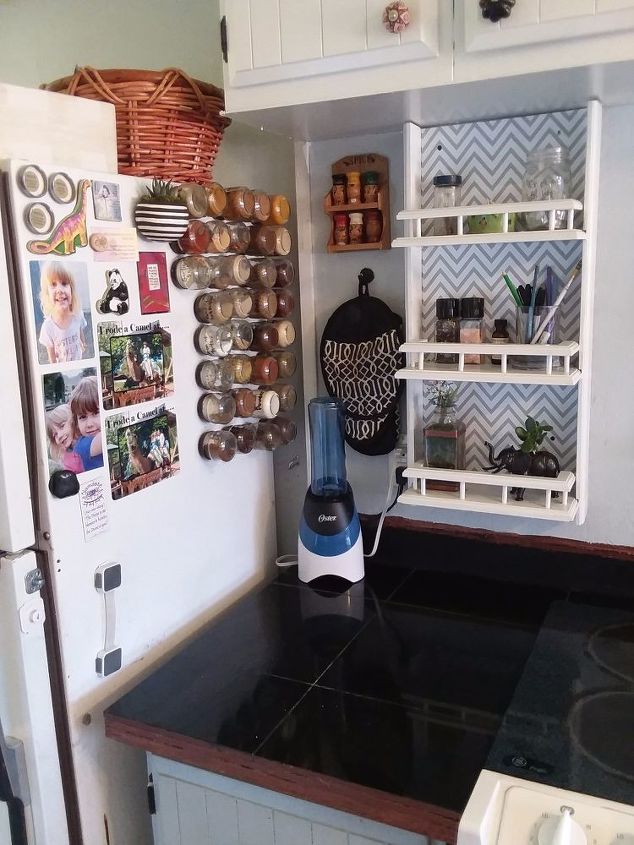 Step Six: Arrange the completed jars on your fridge or another magnetic surface. If you don't want to hang them on your fridge, you can attach a cookie sheet to the underside of a cabinet. They would look great arranged neatly in a row.
Every time I see the brightly colored circles on the side of my fridge, I smile. I like actually seeing my spices. They are very close to my stove and cooking area. I never have any difficulty finding the right one anymore.
TIP: Buy spices in bulk to refill your new jars, or grow and dry your own. Both options are much cheaper than buying spices in jars.