Welcome the spring season and Easter holiday with an easy to make inexpensive crepe paper wrapped floral wire centerpiece. It's shaped like an egg and elegantly topped and grounded with colorful pansies. And it's the perfect way to decorate for any spring get-together. And guess what? You can make this adorable centerpiece for under five dollars! Cheap and easy! That makes for a huge conversation starter at any spring celebration! Just imagine the design possibilities!
Time: 30 Minutes Cost: $5.00 Difficulty: Easy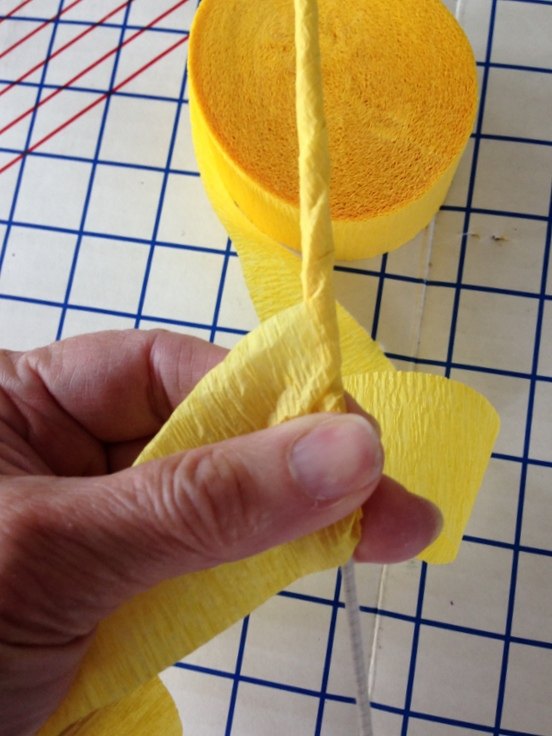 Begin by dabbing mod podge on the end of a strip of crepe paper and wrapping it around floral wire, starting at the tip.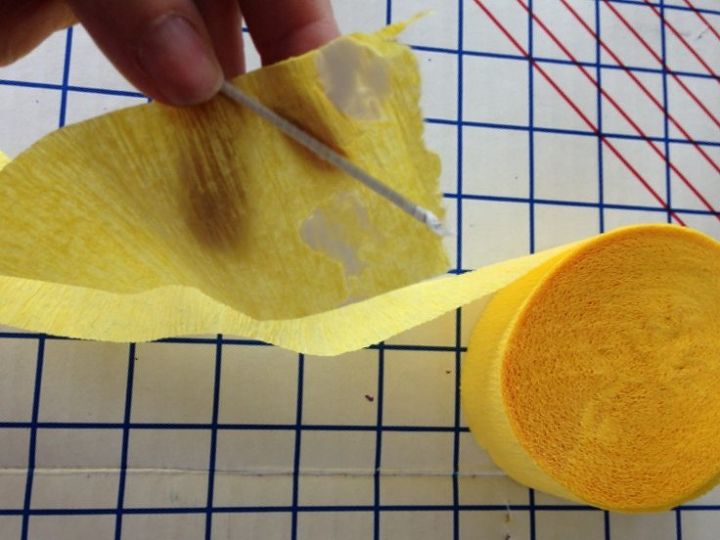 The entire length of the wire has to be covered with crepe paper several times, so I found it easy to first dip a brush into mod podge and brush it off on the wire while wrapping the crepe paper around.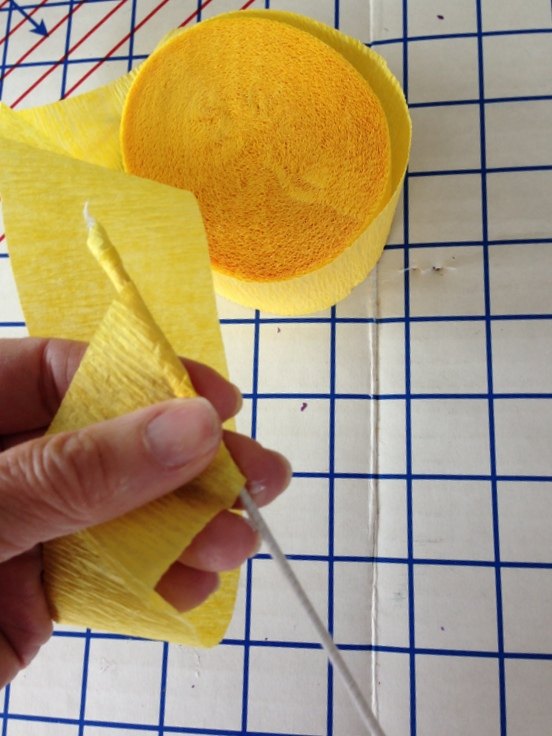 Once the wire is covered, brush the paper with the glue and continue wrapping to the end and back again.  The crepe paper is very forgiving.  You can thicken the stems with the paper by folding and crunching it together as you wrap.  You will need to wrap the wire several times to make a thick stem.  Be careful not to soak the paper with mod podge or it will tear easily.  If that happens, just seal the end with glue and start again from there.  You need to wrap eight stems.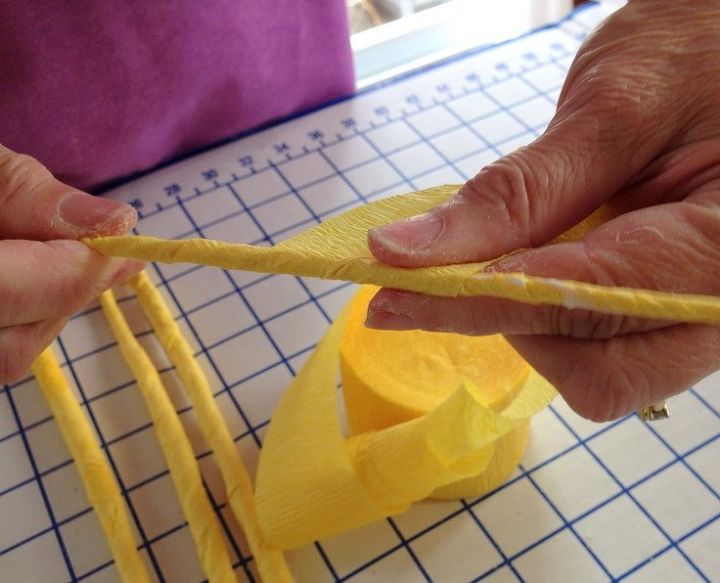 Once satisfied with the thickness of the stems, let dry completely.  Then arrange in a clockwise position.  I originally cut out a two inch cardboard circle and hot glued the stems in place.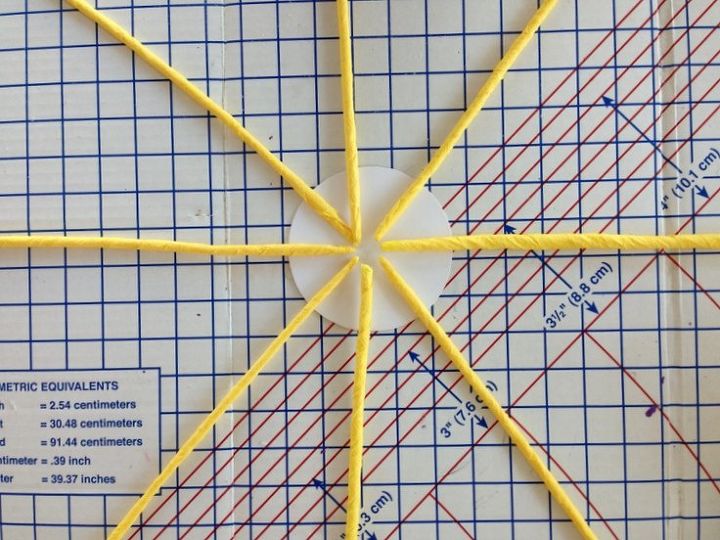 Then I placed a bowl on top and shaped the wire over and up the bowl. (sorry, no pictures for this)  I removed the bowl and hot glued the stem tips together, one at a time.  Once the hot glue cooled, I cut off the cardboard between the stems – I didn't like how it looked and left a small round portion  of cardboard on the bottom.  Then I wrapped more crepe paper around each stem where the cardboard showed.  I also glued a small cardboard circle on top of the bottom stems, covering with crepe paper.  And added more crepe paper around and between where the tip stems came together at the top.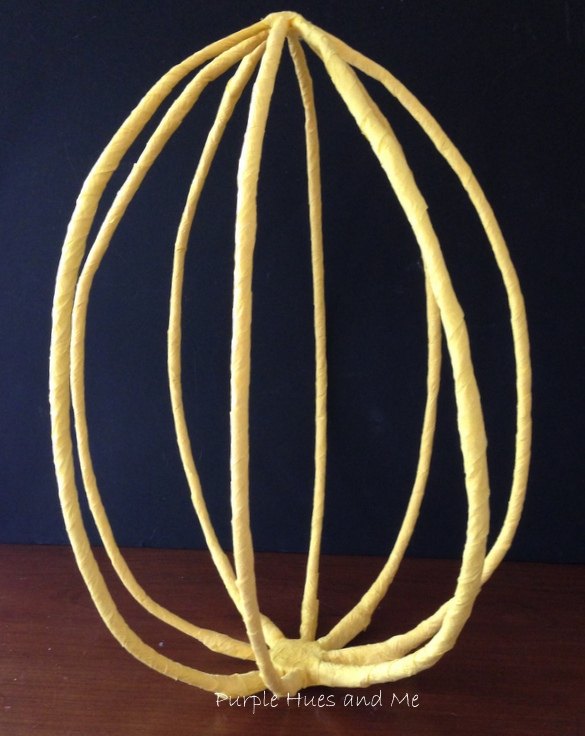 To complete the centerpiece, arrange pansies on top and bottom for a sophisticated decorative spring and easter look!
Materials I used for this project:
Crepe paper streamer rolls   (2 for $1 – DollarTree)
16 gauge floral wire   ($1.99 – Michaels)
Mod Podge/brush
Faux pansies   (DollarTree)
Hot glue gun
Bowl for shaping
To see more: http://www.purplehuesandme.com/2017/03/diy-crepe-paper-wrapped-wire-spring-and.html